Update:
Aug 27, 2014 @ 12:25
Update to officer involved shooting of Steven Douglas, B/M/02-20-85
During an interview with the complainant who reported she was being followed by Steven Douglas, she alleged to Domestic Violence detectives that a police officer was at the location where the children in her car had been taken and he had driven off without taking any action.
The department conducted a review of officers' locations during the time in question and determined that Officer Les Richardson #5460, a 28 year veteran of the department assigned to the South Central Division had been at the location. This has been confirmed by dash cam video.
An Internal Affairs investigation into the allegation has been initiated. Officer Richardson has been placed on administrative leave.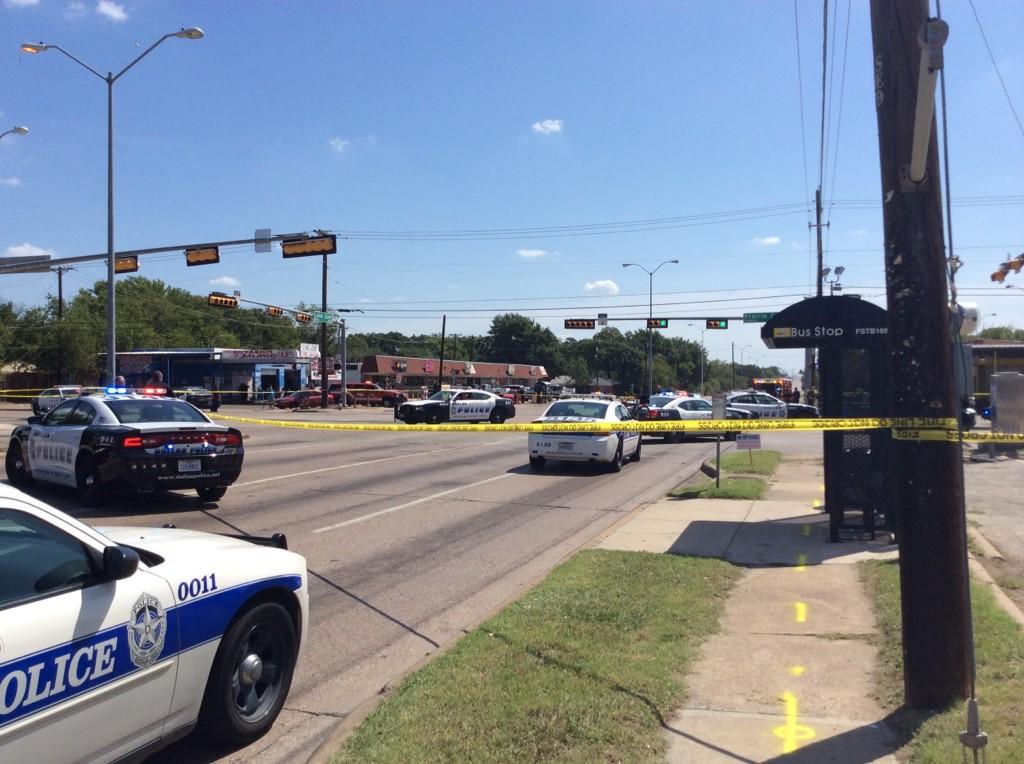 August 25, 2014 @ 17:04
On Saturday, August 23, 2014, at about 7:21 p.m., a female victim called the police to report that suspect, Steven Douglas, b/m/2-20-1985, had pointed a gun at her and threatened to shoot her.  Dallas officers responded to the location and completed a report for Aggravated Assault with a Deadly Weapon on Case #203331-2014. The complainant left the location and stayed with a relative.
Today, August 25, 2014, at about 7:20 a.m., the victim took her three children back to her apartment, which is located in the 3100 block of Easter Avenue, to get some items for the children.  The victim said that suspect Douglas' Green Ford Ranger truck was outside the apartment.  She then made a phone call to 911 asking for the police at 7:23 a.m.  The victim told dispatchers that suspect Douglas had stolen her house keys and that he was at her apartment.
Suspect Douglas came outside and spotted the victim and began chasing her and the children in his vehicle.  The victim again contacted 911 at around 7:26 am and stayed on the phone with the police dispatcher.  The victim told the dispatcher that she was heading for a police station.  The victim also stated she had flattened her tire and repeated that suspect Douglas had a gun.  The victim repeated several more times that suspect Douglas had a gun and was ramming her car.  Suspect Douglas rammed the victim's car and broke out the driver's window at Seevers and Illinois Avenue.  He removed two children from the car at gun point, a female child 9 and male child 1 year old, placed them in his truck and drove off.
An active search for suspect Douglas and his children was conducted by patrol officers and Fusion Unit.  Possible locations known to suspect Douglas were checked and his phone was pinged.  Information led officers to an apartment complex on Pratt Street near Wynnewood Village where covert officers observed the suspect's unoccupied pick-up.  Officers soon observed suspect Douglas drive away in the truck and they attempted a high risk traffic stop.  Suspect Douglas did not stop and a pursuit began.
The pursuit terminated in the intersection of Prairie Creek and Lake June Road when suspect Douglas collided with another vehicle (mother and toddler, uninjured).  The driver of the other vehicle reported suspect Douglas reached into his car for an object which he carried in his hand as he ran away.  Suspect Douglas ran toward an automotive repair business on the southeast corner of the intersection.  Employees at that business observed suspect Douglas was fleeing from officers and that he was armed.  Suspect Douglas began to stumble as he passed a car parked at a service island.  His momentum carried him into the middle service bay.  As he was stumbling, he pointed a small caliber pistol directly at officer Moreno.  Officer Moreno discharged his weapon, resulting in suspect Douglas' death.
A small caliber pistol was recovered at the scene.  Witnesses reported suspect Douglas pointed his pistol at Officer Moreno.  There are several fact witnesses to the shooting.  In depth interviews with all are on-going.  Two witnesses reported suspect Douglas was shot in the back.  Those witnesses have been interviewed and told detectives they did not witness the shooting and their version was hearsay.  At this stage of the investigation, no fact witnesses to the shooting have suggested that suspect Douglas was shot in the back.  The Police Department is requesting that anyone with information on the shooting contact detectives with the Special Investigations Unit.  Detectives are reviewing dashcam video and canvassing nearby businesses for possible video.  Officer Moreno is on Administrative Leave.